Content.ONE is not an umpteenth "dashboard tool", but a unique KPI integration method. It enables cross-channel control of content and marketing - by topic, by campaign, by any filter. The basis is a radically simplified KPI system across owned, social, paid and earned media. Fewer than 10 KPIs provide benchmarks and uniform evaluations across all impact levels - from input (goals and budget use) to output (media performance) to outcome (impact). This opens up true omnichannel, reduces complexity, and enables completely automated evaluation and benchmarking at every level. Only what is relevant for each stakeholder. Even full-text interpretations of KPIs written by our bots.
Automated output media are dashboards or bot reports, which come along graphically or as text, like our CEO echo. Evaluation and control by campaigns and content (topics, products, etc.) is supported by Content.ONE tagging services. If you do not supply your own tags, our own AI takes over the categorization of all digital content.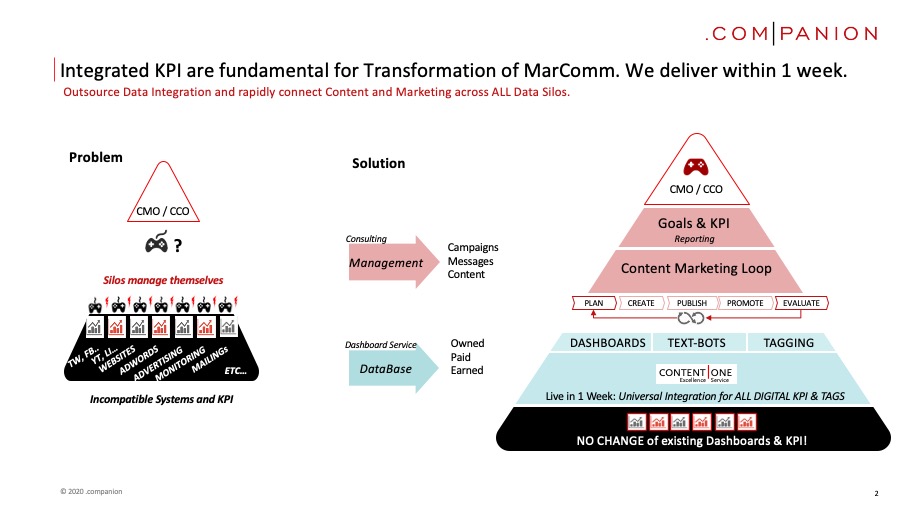 The Content.ONE service is live - you can test immediately
Whether per channel or in total, you can see your budgets, each newly published content, the total media performance, but also generated leads and media response according to current strategic guidelines. Stakeholders decide on the desired level of detail: whether as a business value cockpit, or as a list of top posts/ads.
The automated integration and evaluation of all digital KPIs is in operation for Bosch, Barmer, Covestro, Deutsche Post, Paul Hartmann, MLP, Schaeffler, Symrise and more than a dozen other companies. Processes approx. 10 billion digital contacts per year, from 13 platforms (analytics for web, social, advertising, social listening - imports via API or file).
Content.ONE does not require any change to existing "analytics" or dashboards. It an additional integration layer. You can test our service for free. Free evaluation and benchmarking across all channels and at any level starts as early as 3 days after data import. We are also happy to arrange reference calls.
Arrange a free consultation and 2-month trial now.

High Speed: completely integrated evaluation as an immediate service.
No changes to measurement and existing KPI dashboards.
Homogeneous KPI model for simplified reporting, universal evaluation and fast customization.
Universal analysis across themes and campaigns, with internal and external benchmarks
Results via dashboards or text bots
Customization and automation
Any data source via API or file import. Whether web, social, advertising, monitoring, from CRM or agencies.
AI tagging service to evaluate by campaigns, topics, business unit, etc.
Service line and consulting
Arrange a free consultation and 2-month trial now.
What do reports on input and output, performance and impact look like?
Content.ONE condenses and standardizes the entire digital marketing communication - all channels, from input to outflow - into 10 KPIs. Heterogeneous data silos are thus integrated and can be evaluated across the board. Your reports radically simplified and understandable even for non-experts. You see your reports in Power BI dashboards, free for all Microsoft 365 users. But you also see them as easy-to-read automatic bot texts in your email - for business decision makers and all communicators who never log into dashboards.