Excellence Forum (XF) is a confidential benchmarking circle for digital communication. XF offers standardised benchmarking, exclusive automated evaluation services for fully integrated omnichannel control, as well as proprietary event formats.
Founded in 2005 on the initiative of digital managers in companies, Excellence Forum won the German PR Prize for Evaluation in 2008. Today, XF is Germany's most important circle for the confidential exchange of benchmarks and experiences. Every year, about 20 companies use a service package of comparative reporting and community events in the form of conferences and webinars.
XF compares output and outcome of content and marketing . Participating companies receive fully automated monthly or weekly reports across ALL digital channels. The exclusive evaluation service Content.One is completely omnichannel and delivers evaluations across web, mail, intranet, search, social, display, video, and listening & monitoring.
Content.One also delivers fully automated topic-oriented evaluations. Every month, our bots send out the "Best Corporate Content" ranking - with the best content of the participants in the categories HR Content, IR Content, Sustainability Content, Video Content, Organic Content, Paid Content.
Standards for digital excellence: THE service package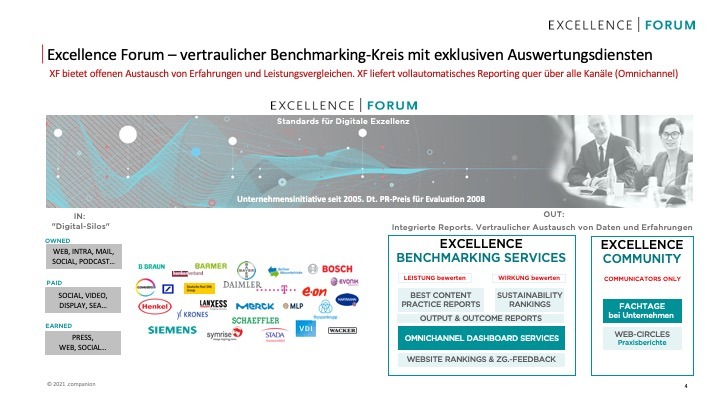 THE EXCELLENCE DAYS
Excellence Forum supports not only the confidential exchange of data, but also the exchange only between digital communicators from companies.
To this end, our EXCELLENCE FACHTAGE are held twice a year at the most innovative and sustainable locations in German industry.
Our participants and guests are looking forward to:
+ the dialog among colleagues in a smaller circle of approx. 40 participants (no service providers)
+ top-class expert presentations on all aspects of excellence in digital communication
+ open and confidential exchange of unvarnished practical experiences
+ confidential comparative data (benchmarks) on the performance and impact of communications
+ Workshops with practical results
+ ample opportunities for personal networking, including at the Excellence evening event
INFO & REGISTRATION EXCELLENCE SYMPOSIUM
Excellence Benchmarking
All XF performance comparisons are based on standards that are developed jointly:
Comparative performance measurement system, independent of industry and business model.
The Content.One framework is a DPRG/ICV "Impact Levels of Communication" model that was expanded in 2014 to include "digital" and "paid". It ensures comparable KPIs across all levels and channels.
Community central evaluation procedures
Freely scalable dashboards and reporting bots, adaptable in all aspects to individual requirements.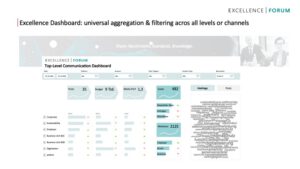 SDG Echo: The new Global Sustainability Benchmarking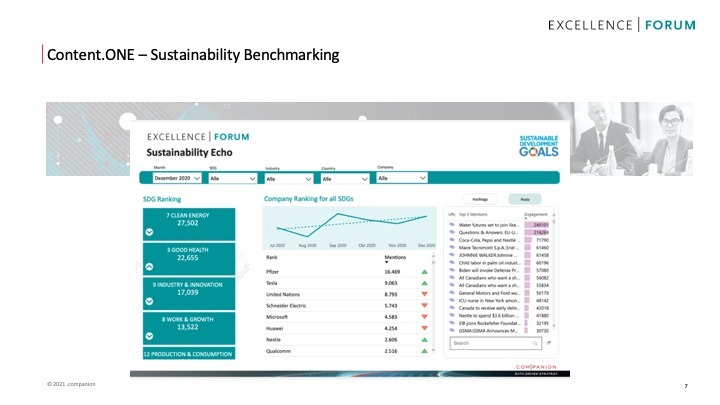 "How visible is my corporate brand in the context of sustainability?"
In future, this question will be answered by SDG Echo, a global benchmarking of the media response of more than 1000 companies, which we are realising in cooperation with Meltwater. After its launch, SDG Echo will become another fixed service component of Excellence Forum.
All services in Excellence Forum
CONFERENCES (Symposia) and Webinars (Web Circles)
Universal OMNICHANNEL DASHBOARD SERVICE
You can connect all digital channels and compare them with each other or against external or own averages
BEST CORPORATE CONTENT Rankings with the best posts from participating companies
COMPARATIVE WEBSITE USER SURVEY
Comparison of the MEDIA RESONANCE of your brand(s) to Sustainability (SDG ECHO)